In 2020 Royal Mail will NOT issue a stamp marking the 400th anniversary of the sailing of the Pilgrim Fathers on the Mayflower.
The Mayflower set sail on 16th September 1620 from Plymouth, UK, to voyage to America. Its passengers were in search of a new life – some seeking religious freedom, others a fresh start in a different land. They would go on to be known as the Pilgrims and influence the future of the United States of America and hence the world in ways they could never have imagined.
Arriving in November, they had to survive unprepared through a harsh winter. As a result, only half of the original Pilgrims survived the first winter at Plymouth. Without the help of local Indigenous peoples to teach them food gathering and other survival skills, all of the colonists may have perished. The following winter, they celebrated the colony's first harvest along with the Indigenous people, which became the first Thanksgiving.
Previous commemorations
In 1920 the United States Post Office issued a set of three stamps to mark the 300th anniversary. Oddly the Postmaster General at the time asserted that the omission of the name of their country was 'not a mistake'.
In 1970 the General Post Office in this country thought it appropriate to issue a stamp to mark the 350th anniversary.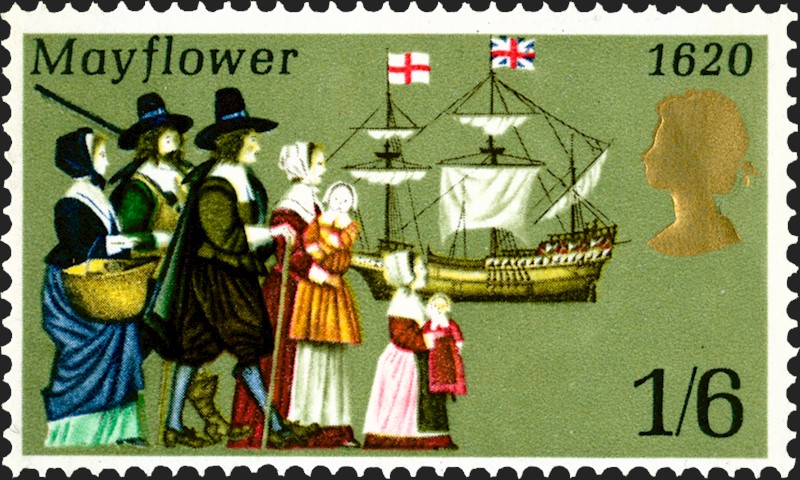 Now with nothing appearing in this country the United States Postal Service is issuing a single stamp in a pane of 20 (the stamps cannot be sold singly, a common situation in America due to the die-cut peforations, which interlink).
The watercolor, gouache, and acrylic painting of the
Mayflower in Plymouth Harbor
was digitally refined to convey a scene of desolate beauty at the end of the Pilgrims' harrowing journey to an unfamiliar world. The stamp also features a stylized hawthorn flower printed in intaglio. Art director Greg Breeding designed the stamp with original art by Greg Harlin.
The stamp will be issued on (Monday) 17 September, the anniversary of the sailing being a Sunday, rather than on a date closer to the arrival in North America.
Had there been an association between the two postal administrations, there might have been a joint issue, with or without identical stamps. This mock-up of a 1st class stamp incorporates the logo of the United Kingdom
Mayflower 400 organisation
.
Instead we will have a stamp issue depicting another American creation, the United Space Ship Enterprise, with the Star Trek issue on 13 November, just after the anniversary of the arrival of the Mayflower in what became Plymouth Colony. Have Royal Mail totally lost sight of important events of the UK's past which had such an impact in the world?
---